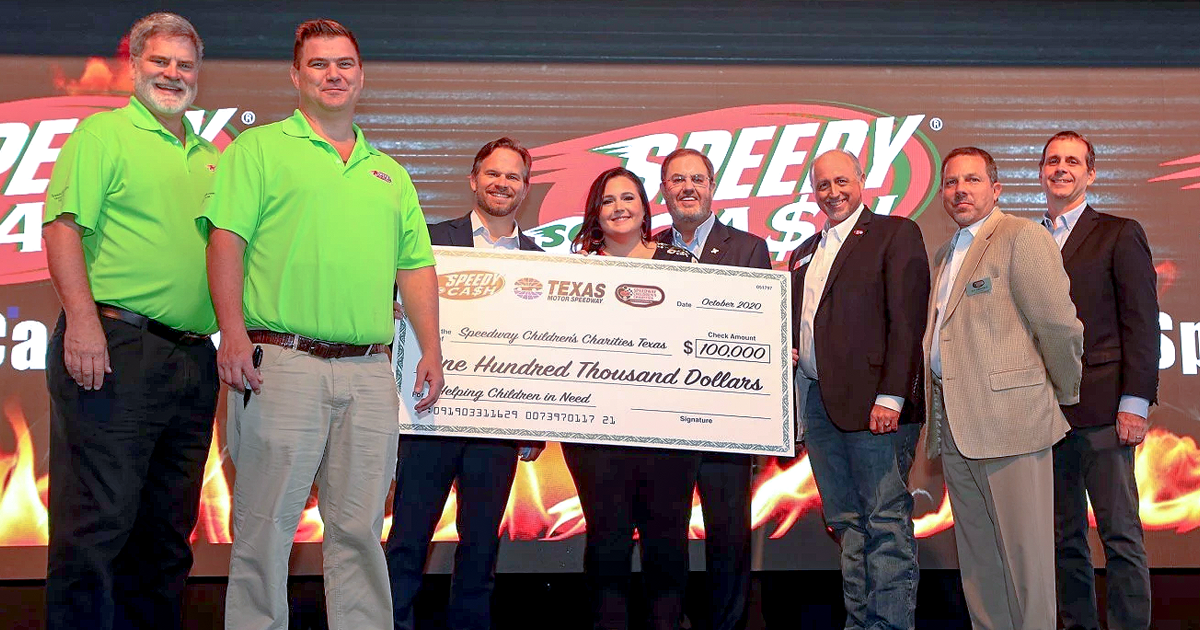 John Wulf and Ryan Rathje present $100,000 check on behalf of Speedy Cash to Speedway Children's Charities Texas. Left to right: John Wulf - Director of Marketing Services | Ryan Rathje - Chief Marketing Officer | Marcus Smith - President & CEO, Speedway Motorsports | Marissa Chaney - Executive Director, Speedway Children's Charities - Texas Chapter | Eddie Gossage - President, Texas Motor Speedway | Mayor Scooter Gierisch - President, Speedway Children's Charities Board of Trustees | Jeff Zimmerman - Vice President, Speedway Children's Charities Board of Trustees | Kirk Gillette - Trustee, Speedway Children's Charities
Speedy Cash donates $100,000 to Speedway Children's Charities
Speedy Cash continues to be passionate about helping our local communities in need. As an Official Partner of the Texas Motor Speedway, it was our privilege to donate $100,000 to Speedway Children's Charities Texas Chapter.
Originally committed to a pledge of $1.00 for every SpeedyCash.com 400 ticket sold for the June 5, 2020 Truck Series race, social distancing made attendance and our goal impossible. The race was moved to October 25, 2020 with a limited audience. Although faced with obstacles, Speedy Cash persevered in honoring our financial pledge, and more, by making a flat donation of $100,000. Chief Marketing Officer at Speedy Cash Ryan Rathje said, "Despite the Pandemic preventing fans from attending the SpeedyCash.com 400 in person, we wanted to keep our commitment to help children in need."
The generous $100,000 donation was met with sincere appreciation, gratefulness, and a few tears. "When our friends at Speedy Cash shared the news of what they wanted to do for Speedway Children's Charities, I was overwhelmed by their kindness and the magnitude of their generosity," said Speedway Children's Charities Texas Chapter Executive Director Marissa Chaney. "They made this donation for no reason other than to support local children in need. 2020 has been a difficult year in many ways for many families and Speedy Cash stepped up to ensure we are able to fulfill our mission of helping those who need it most."
Speedy Cash remains dedicated to helping our neighbors and local communities by providing financial donations and community support. You are our friends and family, and Speedy Cash truly cares. We encourage you to make a donation or volunteer with Speedway Children's Charities, who raise funds to distribute to North Texas non-profit organizations focused on supporting children in need.